With the goal of both meeting the needs of customers and digitizing the stages, Labo software has integrated a warranty lookup application using QR Code.
It is both convenient for customer warranty lookup, while keeping customer information confidential and avoiding errors in warranty for customers.
Warranty lookup application by QR Code
Synchronized data:
– Customer data is synchronized for easy lookup.
Convenient for patients to look up warranty:
– The QR code is encoded from the warranty code included with each order, readable from
Mobile app with QR code scanning
– Printed from the software via the function "Print warranty card".
– The patient is provided with full information when looking up the warranty card.
– Compared to before, when going for warranty, the patient must bring all relevant documents. Very complex and easy to miss. Now, customers only need to carry a compact, convenient card with everything needed to come to the warranty.
– Modernize services to ensure customer convenience and improve customer service quality.
Positive feedback from Labo when using the warranty lookup application with QR Code integrated on Labo software
– Warranty lookup application by QR Code integrated into Labo software with many advantages in terms of business management & amp; customer care.
– The most prominent is bringing Labo's professional image to doctors/patients..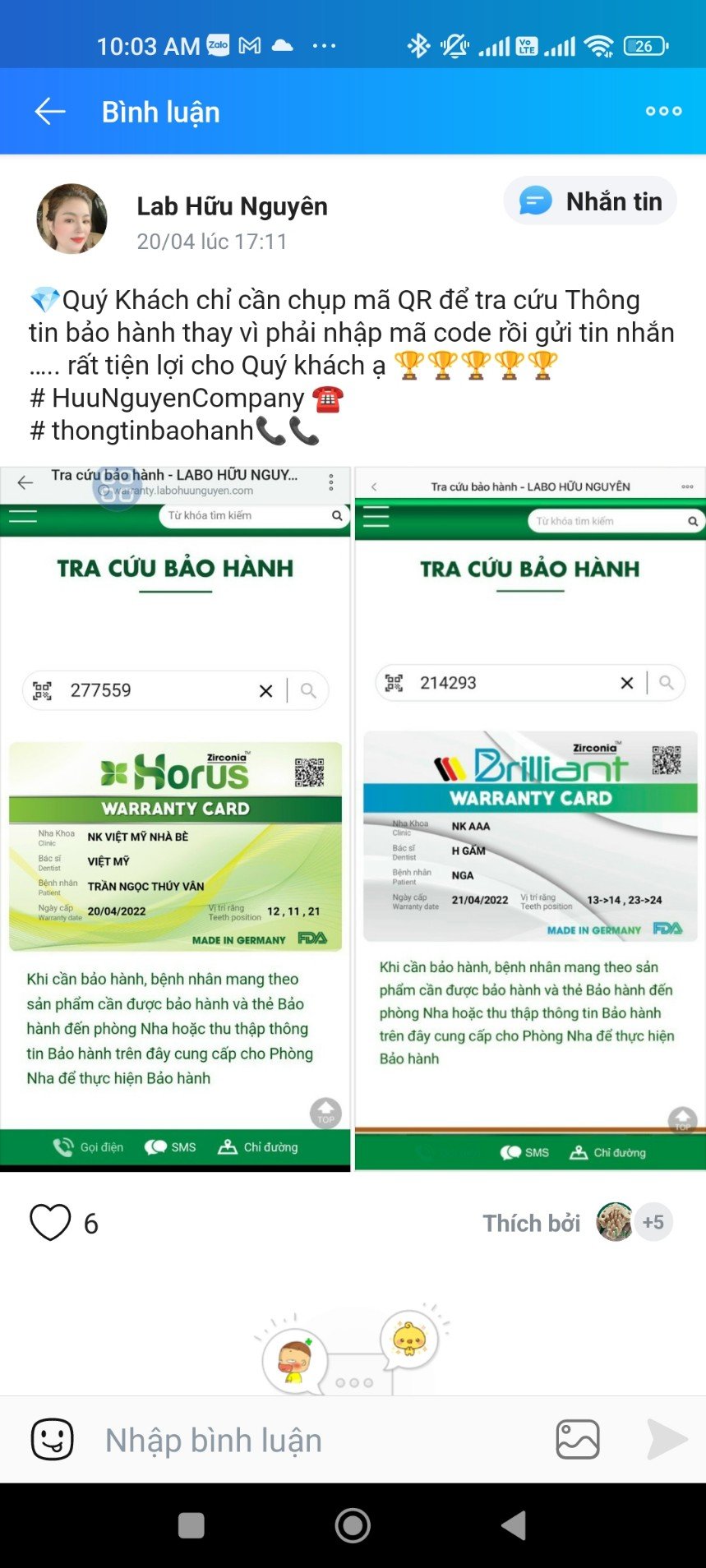 Sincerely thank Labo Huu Nguyen for using the software, wish Labo Huu Nguyen more and more development in the future.
LaBo Huu Nguyen Trading Development Company Limited

Established in 2009, up to now, it has become a reliable bridge between more than 100 dentists and patients nationwide.
With the motto "Fastest – Most Beautiful – Best Quality", a technical team of more than 10 years of experience in the profession, the closed system CAD / CAM CERAMILL 5X has brought Labo Huu Nguyen to a new and higher level. . New. closer to the national dental system.
Objectives and Missions

Mission: We are committed to providing products with the highest quality, reliability and flexibility; Ensuring safety and aesthetics for people is always a top priority. Labo Huu Nguyen strives to become the first choice of customers in the field of cosmetic porcelain teeth production through continuous improvement through the application of the most modern digital technologies today. now.
Vision: With the aspiration to pioneer the application of high technology in production, we have become a strong Labo and a leader in the production of cosmetic porcelain teeth for Dentistry.
LaBo Huu Nguyen Trading Development Company Limited
Address: 51 Street No. 12, Binh Hung KDC, Binh Chanh District (near District 8 bus station), HCMC
Phone: 028 3758 0426 – 6266 4268 – 6266 4012
Hotline : 0977 655 039
Email: info@labohuunguyen@.com
Website: labohuunguyen.com